Six Ukrainian soldiers killed in past 24 hours, says military
Comments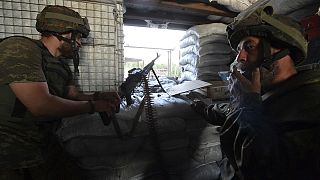 Ukraine's military says six servicemen have been killed and 14 wounded in separatist eastern territory in the past 24 hours.
A four-month-old truce has curbed large-scale fighting, but there are still deadly skirmishes.
It's particularly tense around the airport near rebel-controlled Donetsk city.
International monitors are worried about the risk of a bigger flare-up.
"Tank shelling of Avdiivka and Vodyanoe by illegal armed groups have been registered," said Andriy Lysenko, a Ukrainian military spokesman.
"Intense mortar and artillery firing at our positions have been registered near Maryinka and Krasnohorivka. The fighting also continues near Horlivka, especially near Svitlodarsk."
Meanwhile, separatist officials are accusing Ukrainian forces of firing at a village near Donetsk, wounding two civilians. They also say three districts of the city have been been hit.
Monitors claim neither side has completed the withdrawal of heavy weapons, as agreed in the ceasefire deal.