Moldova's prime minister Gaburici resigns over 'fake diploma' inquiry
Comments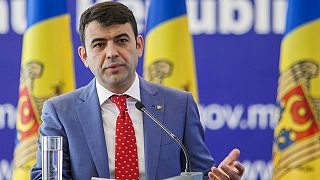 The prime minister of Moldova has announced his resignation, after prosecutors he had accused of dragging their heels over a banking scandal said they were opening a case against him for alleged forgery of his school diploma.
Chiril Gaburici, 38, who had only been in the post since February, said he did not want to play "political games".
Claims that he may have faked school-leaving certificates to get into university are not new.
The official investigation however comes in the same week that he called on the state prosecutor and head of the central bank to quit, for failing to shed light on the disappearance of $1 billion (887 million euros) from the country's banks.
The missing cash, worth an eighth of annual GDP, has caused widespread anger in the ex-Soviet country which is one of Europe's poorest.
Details of the alleged banking scam appeared in a report by international investigative consultants Kroll, which was leaked earlier this year.
It found that there appeared to have been a deliberate attempt to take control of three banks, resulting in a massive increase in lending where the true nature of transactions and beneficiaries were disguised. The banks collapsed in November last year.
Since 2009 Moldova, which lies between Ukraine and Romania and has historically been caught in an east-west tug of war, has been governed by pro-Western parties intent on becoming part of mainstream Europe. Last year the country ratified a political and trade deal with the European Union. The westward moves have angered Russia which has imposed trade restrictions.
Gaburici headed a minority coalition government, supported by two pro-European parties.
However many people among the population of 3.5 million remain nostalgic for Soviet times and links with Moscow, amid long-standing failure to tackle corruption and economic mismanagement. Russian troops protect the small self-proclaimed independent statelet of Transdniestria.