China's crackdown on corruption: ex-security chief handed life sentence
Comments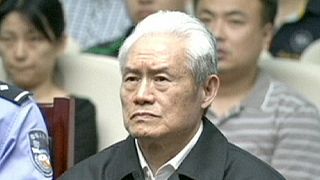 He was one of the most powerful men in China until current President Xi Jinping came to power in 2013.
But the tables have turned for former Domestic Security chief Zhou Yongkang. A closed-door court in Beijing has sentenced him to life in prison after he was found guilty of bribery, leaking state secrets and abuse of power, state news agency Xinhua reports.
Speaking following sentencing, Zhou repented and said he would not appeal against the verdict.
"I plead guilty and will not appeal," he told the court, adding: "I have realised the losses my crimes have brought to the party's cause. I plead guilty again and repent of my crimes."
Xi Jinping came to power on a pledge to crack down on corruption.
Zhou is the highest-ranking of several Chinese officials to be embroiled in scandal since the campaign began.
He was an ally of Bo Xilai, the former secretary of the Communist Party's Chongqing branch. Their fates have followed similar paths. In 2012 Bo was also sentenced to life for corruption.
Zhou accumulated great power. During his time as Domestic Security chief, he managed to up the security budget to such an extent it exceeded that of the army.