Athens protest warns Greek government against debt deal with more austerity
Comments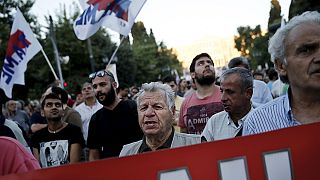 With Greece under constant international pressure to make more cuts and reforms to secure bailout money – at home there was a strong warning not to cave in.
The question is whether his popularity will continue if the new agreement with the country's international lenders contains more austerity
Protests like the one on Thursday that attracted hundreds of people to central Athens used to be commonplace – against previous governments' austerity measures.
This time here were demonstrators – led by Communist-affiliated trade unions – afraid that the anti-austerity Syriza government is about to copy them.
"The government is ready to make a deal that will pave the way for an agreement with lots of unpopular austerity measures," said Dimitris Koutsoubas, General Secretary of the Greek Communist Party.
"This protest sends a message showing our determination to fight against all new measures aiming to continue the austerity," another male demonstrator added.
Greece wants a cash-for-reforms deal from international creditors – who are thought to be insisting on more movement on labour reform, taxes and pensions.
Euronews correspondent in Athens, Stamatis Giannisis, reported from the demonstration:
"In spite of sporadic protests like this one Mr. Tsipras' radical left-wing government still enjoys high rates of popularity among the voters. The question is whether his popularity will continue if the new agreement with the country's international lenders contains more austerity. Athens, euronews, Stamatis Giannisis."