Germanwings high school students' remains arrive home in Haltern
Comments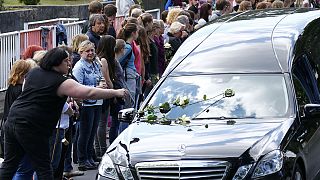 It was the end of a long wait for the families of high school students killed in the Germanwings plane crash in the French Alps.
Nearly three months later, the remains of 15 out of the 16 who died arrived in a convoy of hearses in the small town of Haltern am See near Dusseldorf.
Two teachers in the group, on its way back from a Spanish exchange programme near Barcelona, were also killed in the crash.
Many local people came to the Joseph Koenig high school to pay their respects as the vehicles were driven past.
The first burials are due to take place on Friday.
Parents and relatives had been able to view the coffins earlier and join the cortege on its journey home from the airport.
The remains of 44 German victims had landed at Dusseldorf on Tuesday night after being flown from Marseille in a plane operated by Lufthansa, Germanwings' parent company.
This week relatives are reportedly due to meet the lead French investigator into the crash.
The process of identifying all 150 people who died was completed last month.
After examining cockpit voice and data recorders, investigators concluded that the co-pilot had deliberately crashed the plane.