Debt talks in doubt as Greece struggles with new plans
Comments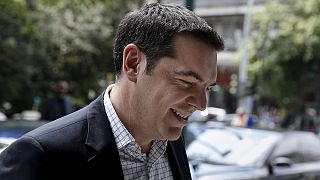 Doubts have been raised over whether a crucial debt meeting in Brussels between the leaders of Greece France and Germany will go ahead today.
An unnamed EU official has described the latest reform proposals from Athens to unlock new funding as "insufficient" to warrant a further round of talks.
But with Greece said to be working on yet more ideas Eurogroup Chief Jeroen Dijsselbloem was less pessimistic:
"It's not certain yet, it all depends on Greek proposals which have just come in and are now being studied by the experts, to see if they are substantial enough to move us towards a solution, so we still have to see if things can happen today."
After a meeting between European Commission President Jean-Claude Junker and Greek Premier Alexis Tsipras on June 3, the Commission requested revised proposals from Greece that would explain how it wanted to reach fiscal targets in an alternative was, given it rejected measures on pensions and VAT proposed by the lendeders.
With the June 30 deadline approaching to reach a deal on unlocking new funding to ward off a debt default, EU Commissioners such as Valdis Dombrovskis know Greece is trying to comply.
"Agreement is possible, but it requires political will, first and foremost, from the Greek side, so it is important really that they do less tactical maneuvering and concentrate on the work on substance really within the next coming days."
But on the political front Prime Minister Alexis Tsipras has not only to win over Greece's lenders but also members of the leftists Syriza party who resolutely oppose the punishing austerity terms that the EU and IMF have insisted on in return for bailout funds.
Greece's bailout programme with the EU and International Monetary Fund expires at the end of this month, and Athens must make a 1.6 billion euro debt repayment to the IMF by then, money that it does not appear to have.
Greek PM Tsipras seeks backing from his party as time runs short for funding deal: http://t.co/6yu6yVEeMCpic.twitter.com/UwFIr6p2TK

— Reuters Top News (@Reuters) June 9, 2015