Woman aged 102 becomes Germany's oldest to receive PhD
Comments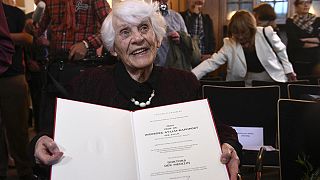 A 102-year-old German woman is thought to be the world's oldest to receive a doctorate.
Ingeborg Syllm-Rapoport was not allowed to defend her doctoral thesis in 1938 under the Nazis because she was part-Jewish.
The neonatologist, a specialist in caring for newborns, cleared the final hurdle last month by passing an oral exam.
Her PhD thesis had been in the field of diphtheria. In order to prepare for the test, she enlisted the help of friends to catch up on 80-years worth of new developments in the subject.
Three professors from Hamburg University's medical faculty travelled to her sitting room in East Berlin where the test was held.
"She was brilliant, and not only for her age, said Uwe Koch-Gromus, the dean of the facility.
"We were impressed with her intellectual alertness, and left speechless by her expertise – also with regard to modern medicine," he added.
"It was a matter of principle," Ingeborg said. "I didn't want to defend my thesis for my own sake. After all, at the age of 102 all of this wasn't exactly easy for me. I did it for the victims [of the Nazis]."
Previously, the mother of four had already been given a national prize her work in dramatically reducing infant mortality in East Germany.