Russian wheat production could fall without rain
Comments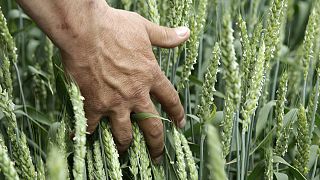 Russia's major wheat-producing region of Rostov, in the south, risks falling as much as 20% short of harvest targets if it fails to receive enough rain in the coming weeks.
The head of operations here for a company cultivating farms that measure in tens of thousands of hectares, explained the long suspense.
Roman Bondarev, with RZ Agro Holding, said: "The weather conditions have been difficult for us since last autumn, seriously lacking moisture. Then starting in April the rains came and boosted the soil humidity. That allowed the wheat to develop and get the momentum you see now."
Temperatures in May reached as high as 34 degrees Celsius in southern Russia, where crop fields often stretch as far as the eye can see.
Rostov, Krasnodar and Volgograd are three of its most important wheat exporting regions, selling largely to north African countries and the Middle East, shipped out via the Black Sea.
Another problem for grain producers is the collapse of the ruble in relation to the dollar last year. That helps exports by attracting foreign buyers, but it also pushes up equipment and supply costs.
Andrei Shiray says: "Before 2011, we only had Russian-made vehicles, then we started to buy only foreign-produced vehicles. They're more powerful, and allow us to save on fuel, lubricants and spare parts."
The UN a few days ago lifted its world cereal production forecast, saying food prices had fallen to their lowest in nearly six years – encouraged by a stand-off by grain buyers in anticipation of strong harvests. But if things don't get wetter around Rostov, its wheat yields could decline.
Of the world's top ten wheat producing countries, Russia hovers in fifth place, just behind France, though ahead of Australia and Canada. The biggest, by far, is China, then India and the US.