A huge fire rages out of control at a fuel depot in Ukraine
Comments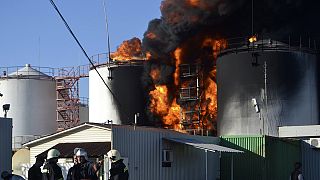 A huge fire is raging out of control at a fuel depot in Ukraine.
Dozens of emergency workers are at the site, 30 kilometres from Kiev.
Water supplies are being being brought in by a convoy of trains.
An explosion at the depot has left three firefighters unaccounted for. One worker has been killed. Seven workers and seven firefighters have been injured.
At least 16 tanks are burning. The battle is on to stop the flames spreading to another fuel depot nearby.
A two-kilometre evacuation and exclusion zone has been set up around the site.
Officials have suggested the blaze was started deliberately.