Greece calls for new approach to its debt crisis
Comments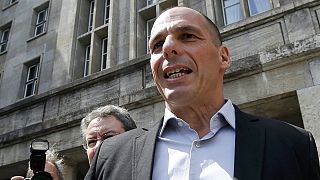 Against a backdrop of restarted talks with international lenders, Greek finance minister Yanis Varoufakis attended a conference in Berlin focused on his country's future within the European Union.
Die Zukunft/the Future of #Greece.debate with #Varoufakis#berlinpic.twitter.com/ELh1SG72AU

— ellen trapp (@elltra) June 8, 2015
Varoufakis has expressed a willingness to compromise to reach an agreement to avoid Greece defaulting on its debt, but says the problem needs a new approach:
"Now for five years now, Europe and three different Greek governments have been misleading the people of Greece and the people of Germany. We have been pretending, speaking now as governments, that we solve the crisis by extending it into the future. Pretending that the nations, the Greek nation's bankruptcy could have been dealt with by ever increasing loans on condition of further income-sapping austerity which undercut the nation's capacity to repay."
Varoufakis went on to say in an interview with Germany's Tagesspiegel publication that creditors are making proposals that appear as if they don't want to reach a deal.
Meanwhile back at the G7 Summit, President Barack Obama has urged both sides to show flexibility.
For her part Chancellor Angela Merkel has warned that with an end of June deadline time is running out for a deal to keep Greece within the eurozone.
The problem facing Greece is that the European Commission is asking for further reforms to Greece's economy, including tax increases and cuts in civil servants' salaries and pensions, before the next €7.2bn tranche of bailout money can be released.
Last week Greek PM Alexis Tsipras delayed an IMF repayment and rejected as "absurd" the pension cuts and tax hikes demanded by creditors.