Tsipras to meet Hollande and Merkel in Brussels on Wednesday
Comments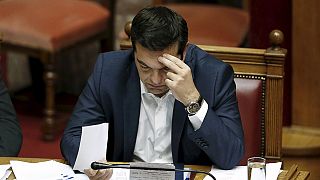 The Greek Prime Minister Alexis Tsipras is to hold talks with the German Chancellor Angela Merkel and French President Francois Hollande on the fringes of a summit in Brussels next week, according to a Greek government official.
The three leaders held a telephone conference call on Saturday which was described as taking place in a good atmosphere.
The content of the conversation was not divulged, but given the standoff between Greece and its eurozone and IMF creditors over the country's stricken finances, any attempts to break the deadlock are bound to be welcomed.
On Friday the Greek leader defended the decision to delay the latest Greek debt repayment, and attacked lenders' proposals dubbed cash-for-reforms as unrealistic.
Meanwhile Athens has denied reports that the European Commission President Jean-Claude Juncker refused to take a call from Tsipras.
Earlier it was reported that Juncker had declined to speak to the Greek prime minister because Athens had failed to send reform proposals it had promised by Thursday.