Apple unveils its own music streaming service
Comments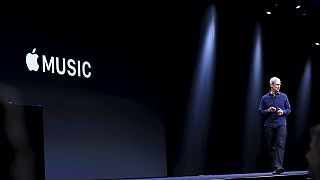 Apple throws its hat in the music streaming ring.
By the end of June it will market Apple Music across 100 countries – free of charge for the first three months, then for $9.99 a month.
The service includes a global radio station called Beats 1, a social media network connecting artists with their fans as well as a feature called "For You" that recommends playlists and albums to users based on the music they already listen to.
Apple Music will seek to catch up with market leader Spotify, which already has 60 million users. It will also compete with Deezer and Pandora.
All these services enable users to search for and listen to songs from anywhere, without needing to download them and use up precious storage space on their smartphones.
Apple stock didn't react much to the news, but shares in Pandora fell nearly 4 percent.
Apple is late to the streaming music business but experts say it can bet on its 700 million iphones sold so far around the world to catch up on its rivals fairly quickly.