Mixed reaction in Athens to debt repayment delay
Comments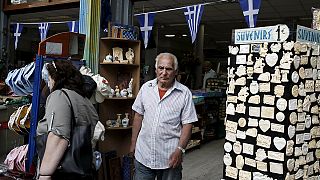 With no deal on Greece's debt in sight and the government's decision to postpone an IMF repayment along with three other debt instalments until the end of the month, reaction on home soil is a mixture of expectation and concern.
"It is a negative development that the Greek government has opted for tactical reasons to postpone the payment. They did it so that they have more time to negotiate and don't have to look for the 500 million euros they had to pay in the next installment. It allows them to reach an agreement with less pressure.Their partners should try to find as soon as possible a better solution than the one we saw last Monday, because it was socially cruel and did not serve the growth project that the country needs," said Charalabos Gotsis, an economist in Athens.
Euronews correspondent in Athens Symela Touchidou explained that the Greek government's decision to ask the IMF to delay the payment, just hours before the deadline, took both creditors and Greek citizens by surprise: "Most of them didn't hide their concerns, as four months of negotiations don't seem to have brought Athens any any closer to a deal."
One Athens resident said: "They were chosen by the people to find a solution, this is what they must do, if they cannot find a solution they should all resign."
"The decision (to postpone the payment) was good. If we had paid, what would have happened?, asked one woman. We wouldn't have any money to pay again," she stressed.
"We all worry and we are worried. The government is trying and we are all waiting… we were right not to pay, because we cannot afford to pay, wages should be paid," stated one man in central Athens.