Activists call on G7 summit to be more than hot air
Comments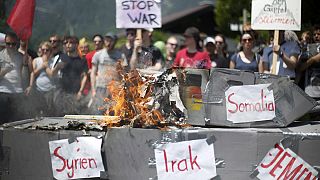 Anti-poverty campaigners gathered in Munich on Friday, holding balloons depicting the world's most powerful leaders and calling on a G7 summit due Sunday in the region to yield more than just hot air.
Over 30,000 activists have been rallying in the Bavarian capital since Thursday, urging leaders to take real action on the world's most pressing issues – from poverty to climate change and the wars in Ukraine and Syria.
"At the end of the day, the G7 countries must be held accountable. We don't want the summit to turn into a nightmare for the poor, we want strong commitments and bold announcements in the fight against extreme poverty," said Tobias Kahler, director of the anti-poverty campaign ONE Germany.
Some 600 activists have meanwhile set up camp in the mountain resort of Garmisch-Partenkirchen, a few kilometers away from the castle of Elmau where the G7 summit will be held Sunday and Monday.
"Locals come over everyday and bring us cake, chat and drink beer with us in the evening," said Benjamin Ruß, an anti-G7 militant. "Everything is fine. There is absolutely no reason to be afraid. It's all very relaxed."
Several hundred demonstrators marched across the town on Friday – overall peacefully, though there were some scuffles on the sidelines. More than 22,000 police have been deployed in the area to secure the event.