Tiananmen remembered: 135,000 attend Hong Kong vigil
Comments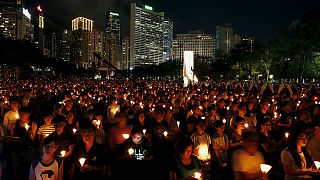 The Tiananmen Square crackdown has been remembered, 26 years to the date.
A candlelit vigil in Hong Kong's Victoria Park attracted 135,000 people.
#TiananmenAnniversary candlelit vigil at Victoria Park, #HongKong -the 26th year. #China#June4#Tiananmenpic.twitter.com/cMm8pGcOjj

— Fion Li (@fion_li) June 4, 2015
Hong Kong, which returned to Chinese rule in 1997, is the only territory governed by China which tolerates events commemorating the 1989 suppression of pro-democracy demonstrators.
Organizers said they estimate 135,000 people attended this year's Victoria Park Tiananmen vigil in #HongKong#TAM26pic.twitter.com/gH7vmtqDLa

— Natasha Khan (@natashakhanhk) June 4, 2015
June 4, 1989
On June 4, 1989, the Chinese government sent tanks in to clear Tiananmen Square of student-led protests which had attracted millions.
No official death toll has ever been released and the Beijing government bans even discussion of the protests and subsequent violence.
Estimates from witnesses and human rights groups range from several hundred to several thousand fatalities.
The crackdown shocked people the world over, with this image of a lone protester, known only as 'The Tank Man' widely considered one of the most powerful symbols of the 20th century.
my wife, born in Beiing, had never seen the famous Tank Man photo until she came to the USA #Tiananmenpic.twitter.com/WPzEo2VT41

— Nethead (@nethead) June 4, 2015