Breasts, buttocks and botox - the surprising trends in plastic surgery
Comments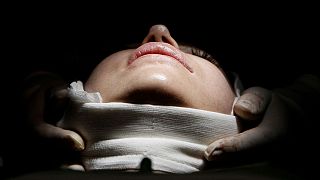 The American Society of Plastic Surgeons (ASPS) has released detailed figures on cosmetic surgery.
Here we delve deep into the data to pull out seven surprising trends from the US:
---
1. Men and boys having their 'breasts' reduced
The number of male teenagers in the US going under the knife for breast reduction in 2014 rose to 6,694, up 14 percent compared with the previous year.
The proportion of obese US teenagers (aged 12-19) has ballooned from 5 percent in 1980 to 21 percent in 2012, according to the Centers for Disease Control and Prevention.
There was an identical trend with adult males: 26,175 underwent surgery to have their 'breasts' reduced in 2014, up 14 percent compared with 2013.
---
2. Teenagers going under the knife
The number of US teenagers putting themselves forward for cosmetic procedures is on the rise – 224,000 13-19 year olds had work done on them in 2014, a jump of 2 percent on the previous year.
The most popular jobs were nose reshaping, male breast reduction (see above), ear surgery, laser hair removal and laser skin resurfacing.
ASPS says parental consent is required for operations on teenagers under 18.
Diana Zuckerman, president of the National Center for Health Research, said: "There is no question that reconstructive surgeries can benefit children and youth. Surgical procedures to correct cleft lips and palates, for example, are not controversial. Plastic surgery to correct unattractive facial features that can attract ridicule, such as prominent noses and ears, are generally accepted in the United States.
"However, cultural phenomena such as surgical makeovers on numerous television programs and unrelenting pressures on teens to conform to beauty standards make it increasingly difficult to agree on what constitutes a "normal" appearance and when the desire to improve one's appearance is questionable or even crosses the line to psychopathology."
---
3. Booming botox
Botox cosmetic procedures, used to help remove wrinkles, are more popular than ever, with 6.67m carried out in 2014. That represents a 6 per cent rise on figures from 2013 and a huge 748 percent hike compared with 2000.
A staggering $2.48 billion dollars (2.18 billion euros) was spent on botox in 2014.
---
4. Weight-loss surgery
The rise in weight-loss surgery in the US has had a ripple effect on cosmetic operations, it's been claimed.
ASPS says 179,000 people in the US underwent weight-loss operations in 2013, reportedly the most since 2009.
It claims this has had a knock-on effect on cosmetic surgery. Thigh lifts and upper arm lifts in 2014 saw their biggest increase in five years.
"You can't attribute that to anything other than the fact that there are more massive weight-loss patients out there looking to take care of the problems that they now have after their weight-loss surgery," said Scot Glasberg, ASPS president. "On the one hand they are thrilled to have lost so much weight, but they are trading one dilemma for another.
"Those who experience massive weight loss are often left with excessive amounts of sagging skin, particularly in the thighs, under the arms, around the abdomen and in the breasts. The excess skin can not only be unsightly and uncomfortable, in many cases it can be painful."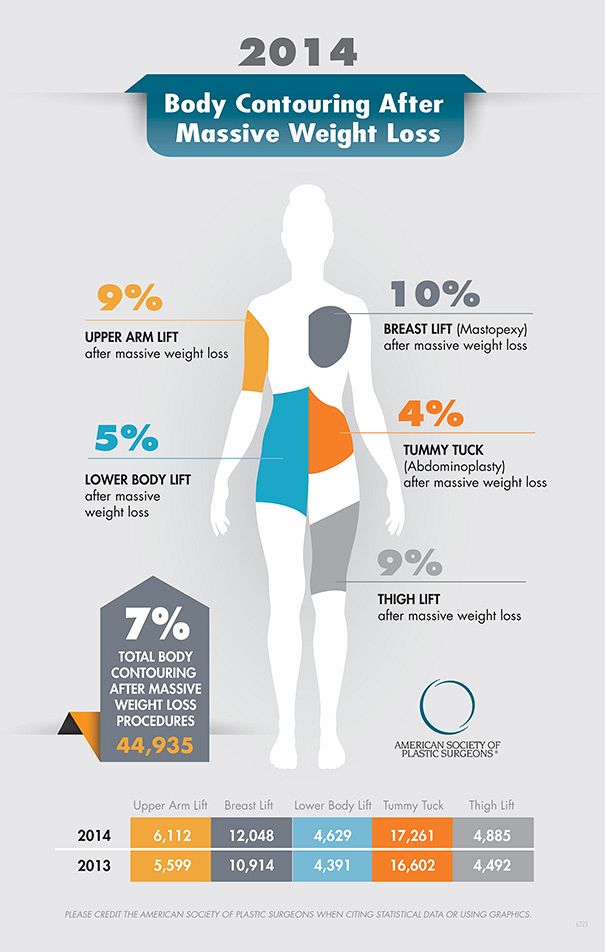 ---
5. Buttock surgery
One of the big growth areas for plastic surgery is bum procedures.
There were 1,863 operations to insert buttock implants in 2014, nearly double the figure for the previous year.
Buttock lifts, meanwhile, rose to 3,505 procedures in 2014, a leap of 44 percent on 2013.
---
6. Gigantic gender gap
You might have guessed that more women than men have plastic surgery.
But the size of the gender gap is huge – of all the cosmetic procedures carried out in the US in 2014, 92 percent were carried out on women.
Of 27 unisex cosmetic surgeries – we've discounted female breast enlargement or male breast reduction – there are just three where the number of men having the procedure outweighs the number of women. They are: calf augmentation, chin augmentation and hair transplants.
---
7. Lifting the lid
If someone asked you to identify three types of plastic surgery, eyelid operations are unlikely to come up.
Yet it was the fourth most popular type of cosmetic surgery performed in 2014, beaten only by breast enlargment, nose-reshaping and liposuction.
The surgery, professionally referred to as blepharoplasty, involves removing skin and adding or removing fat from the eyelids.
---