FIFA scandal: Former top official Chuck Blazer admits bribe-taking
Comments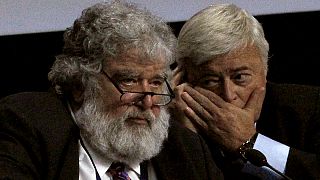 It has been revealed that former top FIFA official Chuck Blazer told a US federal judge in 2013 that he and other members of the executive committee accepted bribes to vote for several events including the World Cups in South Africa in 2010 and in France in 1998.
The American was the second highest official in FIFA's North and Central American and Caribbean region (CONCACAF) for over two decades. He was also on FIFA's executive committee for 15 years.
The admission came in a transcript released from a 2013 hearing in New York in which Blazer reached an agreement with US prosecutors to plead guilty to racketeering and other charges.
In the documents, FIFA is referred to as a RICO enterprise – a Racketeering Influenced Corrupt Organisation.
The latest revelations come just one day after Sepp Blatter announced his resignation as FIFA President.
Separately, Swiss prosecutors said they had opened their own criminal proceedings against unidentified people on suspicion of mismanagement and money laundering related to the awarding of rights to host the 2018 World Cup in Russia and the 2022 World Cup in Qatar.
Meanwhile, FIFA Secretary General Jerome Valcke said in his first interview since the scandal broke that "he has no reason to step down despite what has been happening over the past few days." He added that he is "beyond reproach" and doesn't "feel guilty" or should have to justify that he is "innocent".
Earlier, Interpol issued "Red Notices" for two former FIFA officials including and four corporate executives. Among the six are ex-FIFA vice president Jack Warner.