Relatives wait anxious for news after China ferry capsizes
Comments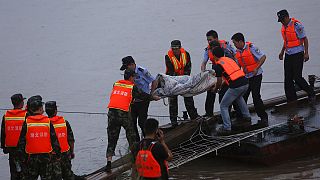 The fate of those onboard a capsized cruise ship in China remains unclear, as rescuers race against time to save people believed to be trapped inside.
So far of the 456 passengers and crew, fourteen people are known to have survived, while five bodies have been recovered.
#INPICS: Rescue Operations Underway, Survivors Pulled From China Boat Capsizing http://t.co/LsWbTEVVMXpic.twitter.com/xbiPaN0RqQ

— The Indian Express (@IndianExpress) June 2, 2015
Most of those onboard were elderly tourists travelling from Nanjing to Chongqing on the Yangtze River. The captain and chief engineer who survived said that the Eastern Star was hit by a cyclone while many were asleep.
Rescue efforts are being hampered by the weather conditions, with boats being battered by wind and rain.
Survivors were taken to the main hospital in the county of Jianli. Reporters were blocked from entering by police.
At the rescue site, the search team could hear people calling for help from inside the ship's upturned hull, according to state media.
In Shanghai, distraught relatives of the passengers wrestled with officials, angry that they were getting little information.
For now they cling desperately to their phones in the hope of news about their loved ones.