'Love locks' removed from Paris bridge
Comments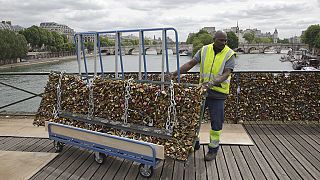 It is known the world over for being a city of romance. But one bridge in Paris is literally buckling under the weight of love.
So many mini padlocks – tokens of affection – have been attached to the Pont des Arts that officials are worried about safety.
Now teams are moving in to remove them, leaving couples having to find an alternative way to express their love.
"I heard that it's just going to be like thrown out. I think they should at least put it in a museum or you know, actually put it somewhere, so people can see it. Because I think they are just going to put it in the bin," said one visitor.
Officials say at least one railing section has already collapsed. The plan is to replace all of the metal grids with padlock proof barriers.
After a long loving relationship with the river Seine, officials say it is now time for the Pont des Arts to move on.