Italy: Local polls represent key test for Prime Minister Matteo Renzi
Comments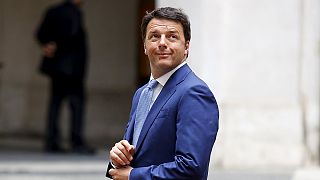 Italians vote on Sunday in local elections widely seen as a key test for Prime Minister Matteo Renzi.
His centre-left Democratic Party triumphed in last year's European polls. Now Renzi wants another strong result that he can claim as a mandate to continue his reform agenda
The centre-left currently holds power in five of the seven regions up for grabs.
Hundreds of municipalities are also being disputed.
A good score for Renzi's party would see him continuing to look unassailable over a year after coming to office amid an internal party coup.
Ex-premier Silvio Berlusconi has also been on the campaign trail. But he is struggling to keep his fractious centre-right party Forza Italia united. He also mistakenly supported a political opponent after turning up at the wrong rally!
Renzi too, has faced embarrassment in this campaign, with corruption allegations surrounding Vincenzo De Luca, one of his most prominent candidates, in the southern Campania region.