US removes Cuba from its list of state sponsors of terror
Comments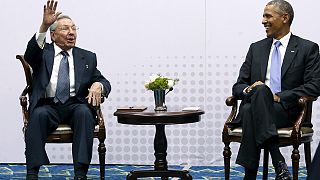 The US State Department has announced that Cuba has been removed from the US list of state sponsors of terror, a move which clears the way for restoring relations after half a century.
A spokesman for the state department emphasised that the terror list review was a separate process from the ongoing negotiations to restore diplomatic relations.
"We've issued this morning a statement about the rescission of Cuba's designation as a state sponsor of terrorism. The review of Cuba's designation a state sponsor of terror was instructed by the president and we have had a separate process of discussions with the Cuban government about re-establishing diplomatic relations and re-opening embassies. We see these as separate," said Jeff Rathke.
Cuba's government had demanded removal from the list as a condition for normal relations between the two Cold War foes.
For Cubans queuing up for US visas the decision has been a long time coming.
"Cuba has always been affected by terrorism – not to sponsor, not to put bombs everywhere – therefore, it does not deserve to be on the list," said Adolfo Yanez.
Cuban President Raul Castro welcomed the review at last year's national assembly.
The two sides have met twice in Havana and twice in Washington.