Sepp Blatter expected to be reelected as FIFA president despite corruption scandal
Comments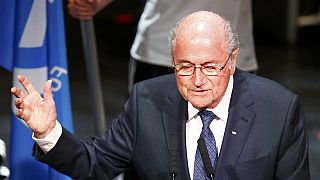 Sepp Blatter appears relaxed about his reelection as FIFA president, even as world soccer's governing body is engulfed in corruption charges.
Blatter said the probes launched by the United States and Switzerland this week had brought "shame and humiliation" on the game. But he has rejected calls to step down over the scandal.
In fact, Blatter is standing for a fifth mandate on Friday (May 29), with Prince Ali bin Al Hussein of Jordan his only challenger in the election.
"The next few months will not be easy for FIFA. I'm sure more bad news may follow but it is necessary to begin to restore trust in our organisation. Let this be the turning point," Blatter told FIFA's annual congress on Thursday.
The United States as well as Europe's soccer confederation UEFA have called for Blatter to resign and said they would vote for Prince Ali, after Dutch candidate Michael van Praag pulled out of the race.
Van Praag, who is chairman of the Dutch Football Association, said: "After the speech of Prince Ali, and after my speech, and also on the request of President Platini, we have decided to stand behind Prince Ali, I wouldn't say unanimously but with a big big big big majority."
It appears that Blatter still commands enough of FIFA's 209 member associations to secure victory. But his Jordanian contender has found unexpected support that could lead to a tight result.