FIFA: Palestinians drop vote to get Israel suspended from world football
Comments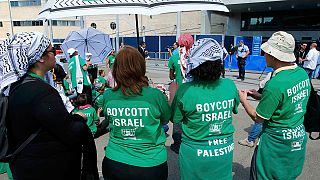 A handshake between the representatives of Israeli and Palestinian football associations at the FIFA congress marks the end of the motion to get Israel banned from world football.
I'm here to play football not politics.
Palestinian Football Association president Jibril Rajoub said he had been persuaded to back down on the vote, saying "I'm here to play football not politics," but added that he would not give up the resistance.
The suspension was abandoned at the last minute after a compromise was reached to establish a committee which would monitor the contentious issues.
Palestinians have complained for years that Israel has discriminated against their players and officials by limiting their movements. The committee would monitor this as well as find a solution to five Israeli clubs located in the Occupied Palestinian Territory of the West Bank.