Conflict not in our interests, says Ukraine rebel leader
Comments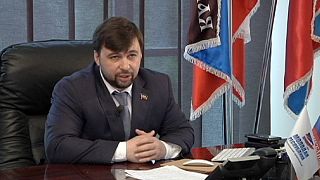 Southeast Ukraine seems to be uneasily caught between a possible lull in the fighting and an escalation of the conflict.
We all saw the parade on May 9 in Moscow, just imagine what would happen if the Russian army really entered our territory
Pro-Russian separatists have been easing their rhetoric about independence, instead talking openly about increased autonomy for the region, as euronews reported earlier this week.
However the fragile truce negotiated in the Minsk accord continues to be violated – with shelling taking place especially in the areas around Mariupol, Slovyansk and Donetsk airport.
How can Kyiv take any steps towards according special status when in reality the region is fighting a war backed by Russia?
The self-proclaimed Donetsk People's Republic's negotiator in Minsk, Denis Pushilin, told Sergio Cantone of euronews:
"We all saw the parade on May 9 in Moscow, just imagine what would happen if the Russian army really entered our territory. We would probably be doing this interview in Kyiv and not in Donetsk. It's true that someone would have taken advantage of a full scale war in our territory with the Russian army. But that's neither to our nor Russia's advantage."
Asked whether the region would otherwise achieve full independence, Pushilin went on:
"The territory of the Donetsk People's Republic could have seen self-determination a long time ago, nevertheless we have now been insisting on a political resolution to this question. For us, abiding by the Minsk agreement is the first step, for us this is the main document we are respecting."