Russia 'amassing artillery' near border with eastern Ukraine, reports suggest
Comments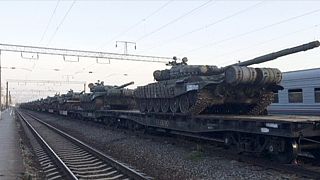 Photos taken by Reuters news agency purport to show Russian troops, tanks and artillery being amassed at a temporary base near the border with Ukraine.
According to a reporter, hundreds of pieces of weaponry are being stockpiled some 50 kilometres from the frontier with Ukraine's war-torn east.
Earlier in May, NATO military commander General Philip Breedlove said he thought pro-Russian separatists would take advantage of the ceasefire in the region to prepare for a new offensive.
It is an opinion Ukraine's Defence Minister, Stepan Poltorak, seemed to share.
"A large number of tanks and artillery systems were moved into the territory and, in the territory of Luhansk and Donetsk, there are units of Russian armed forces. That is why we consider there is a high risk fighting will intensify," he said.
Moscow did not give a direct answer when questioned about the weaponry, Reuters reports.
When asked if the unmarked artillery seen at the border meant "an invasion of Ukraine was being prepared," Kremlin spokesman Dmitry Peskov is said to have replied that he found the wording of the question "inappropriate, as such."