Blatter re-elected for fifth term as FIFA president
Comments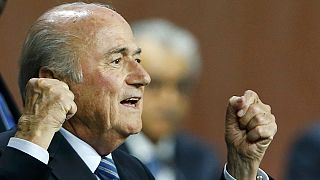 Not even the corruption scandal that has recently hit FIFA could stop Sepp Blatter being re-elected for a fifth term as President of world football's governing body.
The 79-year-old Swiss beat challenger Prince Ali Bin al Hussein of Jordan in the elections at the 65th FIFA congress in Zurich on Friday.
And in his victory speech he even hinted that it would be last term.
Blatter said: ''I promise you at the end of my term, I will give this FIFA to my successor in a very very strong position, a robust FIFA and a good FIFA. We have to work together. You will ask me what age (to retire) it's not an age, age is not a problem I have always told you.''
Blatter was seven votes short of the two-thirds majority needed for an outright win but before the second round of voting could go ahead Prince Ali decided to withdraw.
Prince Ali said: ''I just wanted to thank all of you, its' been a wonderful journey in terms of knowing you working with you seeing the challenges you have and i want to thank in particular those of you who were brave enough to support me, but having said that I will be withdrawing from the race. So thank you all very much and I wish you the best of luck for the future.''
The victory for Blatter means the embattled president will have another four-year term in office.
Although it is likely to begin with a spring cleaning of the FIFA house followed by an uphill struggle to regain the organization's credibility across the footballing globe.