Malaysia: Police officials arrested as over 100 'migrant graves' discovered
Comments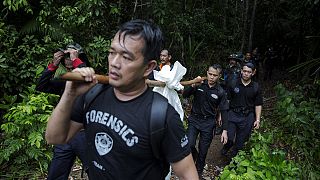 Malaysia's deputy home minister says 139 uncovered graves, which are believed to contain the corpses of trafficked migrants, appear to hold one body each.
Officials had expected to find mass graves on the site in Wang Kelian, at the Malaysia-Thailand border.
The Malaysian Anti-Corruption Commission and police have since arrested two police officials suspected of involvement in transporting migrants, specifically in relation to the discovered graves.
A further ten people have been detained on unrelated charges connected to human trafficking.
Several of the victims are believed to be stateless Rohingya Muslims. In May 2015, over 3,000 migrants, mostly hailing from Myanmar and Bangladesh, arrived by boat in Malaysia and Indonesia.
A protest in Myanmar – a country often slammed for its human rights record – saw hundreds take to the streets. Many were angry at recurrent foreign criticism of the way the country is dealing with the Rohingya people.
The protest's organiser denounced the United Nations.
"The UN is trying to put all these refugees in our Myanmar country," said Min Min. "That's why we protest against the UN."
A Buddhist monk known as Wimala was also among the demonstrators:
"What I want is to send these people back to their country. If they were born in this country then, yes, stay here," he said.
Thailand has recently cracked down on human trafficking, meaning thousands of people are believed to be stranded at sea. A migrant crisis summit is scheduled for Friday, May 29, in the Thai capital, Bangkok.