FIFA scandal: Blatter keeps low profile, sponsors threaten to review ties
Comments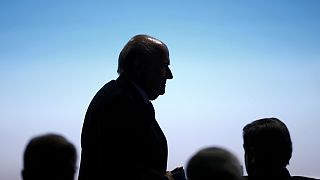 FIFA president Sepp Blatter has been avoiding scheduled appearances in Switzerland, as world football's governing body is gripped by another corruption scandal.
The 79-year-old was due to be at FIFA's annual congress in Zurich on Thursday, but he had already pulled out of a medical meeting.
The arrests of top officials on US corruption charges has plunged FIFA into a crisis.
Swiss authorities have also announced a criminal probe into the awarding of the next two World Cups.
Meanwhile, FIFA's blue-chip sponsors say they may review their ties.
Nike, Coca Cola and McDonald's have all expressed concerns about the unfolding developments.
Visa says is profoundly disappointed and is urging FIFA to take "swift and immediate" steps to address the issues.
Despite all of this, FIFA still intends to go ahead with a presidential election on Friday.
Blatter, who is not among those indicted, remains favourite to win a fifth term.