'A sad day for football', but can Sepp Blatter ride it out?
Comments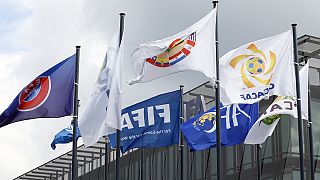 Nine of the defendants were FIFA officials and five were corporate executives. Those arrested included FIFA Vice President Jeffrey Webb, who is also president of CONCACAF and his predecessor Jack Warner, arguably one of the most controversial members of the FIFA executive committee.
According to reports, five defendants have already pleaded guilty. They include Charles Blazer, a former CONCACAF general secretary, as well as Warner's sons Daryll and Daryan Warner.
Webb, who was given a prominent role as the head of the governing body's anti-discrimination task force in March 2013, is not the first Concacaf president to be accused of corruption. After sitting for 28 years, Jack Warner's duties came to an abrupt end in 2011 after he was embroiled in bribery allegations.
While FIFA President Sepp Blatter was not among those arrested, officials told journalists that the investigation was ongoing and that the Swiss had not been cleared of wrongdoing.
Although FIFA immediately ruled out postponing Friday's presidential election, the reports offer a fresh blow to the credibility of football's world governing body, which has suffered repeated accusations of wrongdoing over the bidding process for the 2018 and 2022 World Cups.
FIFA has recently been under pressure to publish the 'Garcia report' to help shed light on what happened during the turbulent process for the tournaments awarded to Russia and Qatar respectively.
American lawyer Michael Garcia was appointed FIFA's independent ethics investigator in 2012 and spent two years investigating all nine bids for the 2018 and 2022 World Cups.
His 430-page report was submitted in September and a 40-page summary was published by his ethics committee colleague Judge Hans-Joachim Eckert in November.
Garcia immediately complained that it misrepresented the facts of his report and made a formal appeal.
That appeal was rejected by FIFA, and Garcia eventually stepped down, citing a "lack of leadership" at the top of world football's governing body.
All the defendants face potential 20-year sentences with many believing such an investigation was long overdue.
Dr David Webber
To discuss the issue further we met up with Dr David Webber, a political and football economist from the University of Warwick.
Joe Allen, euronews : "Reports suggest the FBI's office in New York has been investigating FIFA for years. This is two days before the FIFA presidential election. Is there any connection or is it purely a coincidence?"
David Webber: "One of the things that FIFA have said this morning is that this is a political attack against them, or a premeditated attempt to sabotage a set of elections which many people feel are a foregone conclusion. The FBI, I understand, say this simply makes sense to make these arrests now, because they're all sharing the same hotel in Zurich and they could coordinate their investigation with Swiss authorities as well. So it's really difficult to tell, at this stage if it's deliberate or if it's simply coincidence."
euronews: "Prince Ali Bin Al-Hussein of Jordan, who is Sepp Blatter's rival for the FIFA presidency, described the development as 'a sad day for football'. How would you describe it?"
Webber: "I think it is a sad day for football, but probably not for the same reasons as the Prince did. It's interesting that he's since backtracked on that claim and said that football needs good governance, it needs strong leadership, and strong leadership needs to take responsibility. Whether or not the Prince himself will provide that leadership and responsibility remains to be seen. But I think this is a sad day for football. No one really connected to the game is surprised. The levels of corruption in FIFA have been well-documented for the last 20 or so years. It's a sad day not that this has come to light but this has gone on for such a long time."
euronews: "The US Attorney General said the inquiry suggests rampant, systemic and deep-rooted corruption. Do you think Sepp Blatter's position has been compromised and if so, can he survive these fresh allegations?"
Webber: "Sepp Blatter is 'Teflon Man', as he's proved over the last 17 years. Nothing, it would appear, seems to have stick on him before. I wouldn't be surprised if he manages to ride this out. But serious questions do now need to be asked of his leadership, and indeed what better time to ask those questions than at the FIFA congress which is happening in two days time?"