Cameron and Juncker meet to discuss UK call for new EU deal
Comments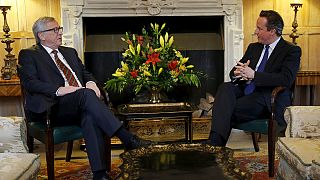 The European Commission President Jean-Claude Juncker has been meeting David Cameron at the British prime minister's official country residence Chequers.
On the agenda, the UK's quest for a new deal on EU membership ahead of a planned "in-out" referendum by the end of 2017.
At last week's summit in Riga, Cameron said he was confident that agreement with other leaders over reforms could be reached, but that it would not be easy.
The prime minister, who was re-elected earlier this month, is expected to have raised the issue of free movement. Britain argues it can't cope with the high number of internal EU migrants.
He is also likely to call for restrictions on benefits migrants can claim in other countries – and for national parliaments to be able to block EU laws.
This week the EU Referendum Bill is due before Parliament. The government says UK-based citizens from most other member states will not be eligible to vote.
Cameron is expected to visit several European nations in the next few days – France, Germany, Denmark, Poland and the Netherlands – to try to drum up support for his proposals.