Eurovision: behind the scenes in Vienna
Comments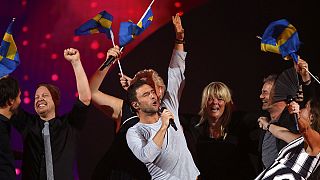 Sweden won the 60th Eurovision Song Contest on Saturday in a thrilling finale that saw 28-year-old Måns Zelmerlöw go head-to-head with Russia's Polina Gagarina for most of the evening.
He eventually picked up 365 points for the song 'Heroes' while Russia scored 303 points.
.manszelmerlow</a> from <a href="https://twitter.com/hashtag/SWE?src=hash">#SWE</a> answers questions after giving his country its 6th <a href="https://twitter.com/Eurovision">Eurovision win #BuildingBridgespic.twitter.com/QdC6jeodv5

—

EBU

(@EBU_HQ) May 24, 2015
Amid concerns about the rising costs of staging the show, this year's contest was a slightly smaller affair.
A crowd of about 10,000 packed into Vienna's Weiner Stadhalle.
Euronews correspondent Andrea Hajagos watched from behind the scenes:
"We're here in the media centre at the exact moment the winner is announced. Even though we weren't allowed access to the main hall, we still felt that we were among – not journalists – but real Eurovision fans," she said.
Behind the scenes: How pyrotechnics work on stage, read more at http://t.co/icLbiQM3iu#eurovision

— Eurovision (@Eurovision) May 23, 2015
Many people had travelled long distances to witness the spectacle.
One man from Norway told euronews: "It's very expected, we wanted Italy but sadly it's Sweden again."
Another fan said: "Very sad for Germany, because nil points, like Austria as well."
A third man, told euronews: "Finland wasn't there, we are from Finland, so it had to be Sweden; 12 points Sweden."
Watch the winning performance
Here is Sweden and manszelmerlow</a>&#39;s winning performance: <a href="https://t.co/ybR1WQPOxe">https://t.co/ybR1WQPOxe</a> <a href="https://twitter.com/hashtag/Eurovision?src=hash">#Eurovision</a></p>&mdash; Eurovision (Eurovision) May 23, 2015