Drama and suspense on and off screen at Cannes before Palme d'Or award
Comments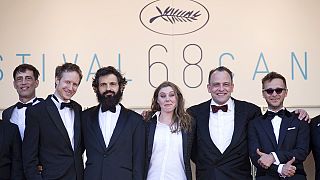 The Cannes Film Festival is in suspense ahead of the final awards ceremony on Sunday night.
"Son of Saul", a Holocaust drama about events in Auschwitz, is one of the favourites for the prestigious Palme d'Or.
A raw, violent and challenging film, it has been very well received at the festival.
The fact that it is the first film by Hungarian director László Nemes Jeles makes it all the more remarkable.
He has said he tried to avoid the sentimentalism of many Holocaust films.
"Son of Saul, it should be a courageous gesture of the jury to give the prize to that film because it's a first film. If it's not that one, I would like the Palme d'Or (to) go to Jia Zhang-Ke," said critic Joao Antunes of the Portuguese daily paper the Journal de Noticias.
The Chinese filmmaker is already a well-known name in Cannes; two years ago Jia Zhang-Ke won Best Screenplay.
His film "Mountains May Depart" is another reflection on the rise of consumerism in China and the impact of internal migration for economic reasons.
Euronews correspondent in Cannes Frédéric Ponsard said:
"With no clear favourite emerging, even if the Italians and Chinese are often cited, the competition remains wide open and the prize list could bring some surprises."
Another frontrunner comes from Italian director Nanni Moretti, a Cannes veteran who has brought more than half a dozen films to the festival.
He goes personal with "Mia Madre" – "My Mother" – about a film-maker whose mother is dying. He began work on the film after his own mother died five years ago.
All eyes are on previous Palme d'Or winners, brothers Joel and Ethan Coen, 24 years after they won the award with "Barton Fink", and who head today's jury.