Valley of Death and The Assassins hope for Cannes glory
Comments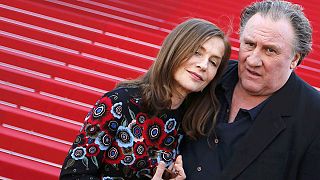 Movie fans in Cannes were shown the last two films battling it out to receive the Palm D'or on Sunday night.
French film Valley of Death sees Gerard Depardieu and Isabelle Huppert play a divorced couple reeling from their son's suicide.
The pair get summoned to Death Valley in the United States as per instructions in their son's suicide note.
The two actors also play two actors of a certain prominence and are incidentally called Gerard and Isabelle.
Valley of Love review: some peaks, more troughs as Gérard Dépardieu and Isabelle Huppert hike Death Valley http://t.co/H7O6F8QfdS

— The Guardian (@guardian) May 22, 2015
Taiwanese director Hou Hsiao-Hsien has brought a new spin to the customary kickfest-style martial arts movie, with "Nie Yinniang" (The Assassin).
He admits that he had not started out wanting to make the lead character female in his film The Assassin, but had tailored the role to suit his lead actress, Shu Qi.
Shu plays a black-garbed ninth-century assassin who never loses a fight.
Hou said he was aware of the buzz surrounding his film but he would not predict which movie the prize jury would pick.
#RedcarpetNIEYINNIANG (THEASSASSIN) by Hou Hsiao-Hsien #Cannes2015pic.twitter.com/lVHMQOerZ1

— Festival de Cannes (@Festival_Cannes) May 21, 2015