Ireland waits for results in gay marriage referendum
Comments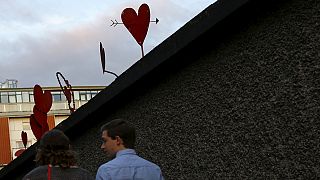 The votes are in and counting has started in Ireland in the country's referendum on gay marriage. It is the first time a popular vote has been used to decide if a constitution should be changed to allow same-sex marriage.
The vote comes just two decades after homosexual acts were decriminalized in Ireland. The national media is predicting one of the highest turnouts for a referendum – around 60 percent in the capital Dublin.
It's believed that will favour the Yes vote while opinion polls pointed to a majority of as much as two-to-one in favour. One couple tied the knot and then voted.
"This is just about equality. Nobody told us whether we could or couldn't get married and we think everybody should have the same choice. If you want to you should be able to get married to the person you love just like we have today. It is a really simple matter and it is just about equality," said bride Ann Cole.
Gay marriage has been backed by all the political parties. The Roman Catholic Church might have been expected to lead the opposition, but it has been hit by child abuse scandals.
The numbers at the ballot were boosted by the hometovote movement which, with no postal vote, encouraged thousands of ex-pats to return to the polling stations.
"My original flight was actually booked for tomorrow, but I purposely changed the time of the flight so I could come home to vote," explained one person returning to Ireland and the polling station.
Opposition groups have raised concerns over parenthood and surrogacy rights for gay couples and many believe the recognition of legal rights for same-sex couples in 2009 is sufficient.
The result is expected on Saturday evening.