Burundi opposition leader 'shot dead' in Bujumbura
Comments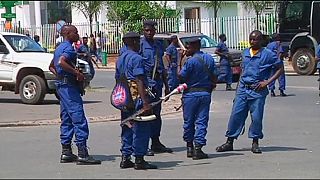 Reports from Burundi say the leader of a small opposition party has been assassinated along with his bodyguard in Bujumbura.
According to AFP, Zedi Feruzi, leader of the Union for Peace and Democracy (UPD), was shot several times as he returned home in the Ngagara district.
His body and that of his police guard were seen in front of his home, says the agency.
Earlier the capital had been calm but tense on Saturday as opponents of the president's bid to seek a third term in office observed a truce and talked of beginning a dialogue with the government.
The atmosphere contrasted with Friday night's bloody scenes when three people were killed by three grenades thrown into city centre crowds.
Police pointed the finger at protesters: claims strongly denied by one opposition leader who said the police were trying to discredit the movement to justify the excessive use of force.
Thousands of people have fled into neighbouring countries because of the unrest, sparked by President Nkurunziza's decision to seek a third term in office his opponents say is unconstitutional.
Hundreds of refugees who had gone to Tanzania have been evacuated from a makeshift camp after an outbreak of cholera in the fishing village which was hosting them.
They have been taken to another camp on Tanganyika Lake with what the UN says are better facilities.