Knowledge is power: how Big Data is transforming education
Comments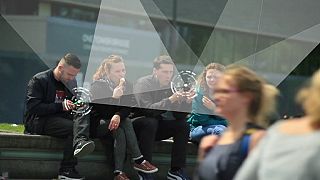 Big Data is a big idea circulating in the worlds of government, business and academia which, its supporters say, promises to revolutionise the way we use information. In very broad terms it centres on the collection and analysis of large volumes of data. In this edition of Learning World Maha Barada presents three stories illustrating how it is being used in the field of education.
The Next Revolution
Learning World catches up with Kenneth Cukier, one of Big Data's most high profile proponents who has written a book on the phenomenon. The American journalist explains how data, if analyzed with precision, can be hugely valuable in many walks of life. A particular example is Massive Open Online Courses (MOOCs), in which teachers are able to assess their students strengths and weaknesses by analysing their online learning habits.
Reinventing Education:
Big Data is creating a major buzz at the Arizona State University, where the learning process is now digital and fully customized, using software to analyse students' every keystroke. The aim is to get a better understanding of individual learners' needs and abilities through the analysis of mass information.
Training Data Scientists
China is blazing a trail in the implementation of Big Data theory and practice in education. Seven Chinese universities are now offering 'data scientist' programmes, offering unique learning opportunities for students from at home and abroad. The courses have drawn on expertise from corporate America, reflecting the truly global nature of Big Data.
Watch the video to see these stories in full.