Eurovision Song Contest finalists decided
Comments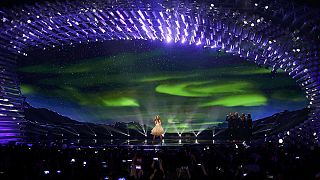 As if this Saturday's three hour final wont be thrilling enough, the last of 27 participating nations in the Eurovision Song Contest were selected on Thursday night.
It feels great, am so happy so relieved. I am really really looking for the final now; I am going to give it my all.
A second semi-final was held in Vienna which saw 10 countries shortlisted from 17 acts who performed on stage.
Latvia, Azerbaijan, Cyprus, Montenegro, Norway, Sweden, Slovenia, Poland, Lithuania and Israel were picked to join the likes of the UK, France and Germany in the finals.
Another 10 countries were picked during the first semi-final on Tuesday.
The final running order for Saturday has been confirmed.
Running order for Grand Final revealed!, read more at http://t.co/rautiKODOg#eurovision

— Eurovision (@Eurovision) May 21, 2015
Mans Zelmerlow, the Swedish entrant and the bookies favourite to win said: "It feels great, am so happy so relieved. I am really really looking for the final now; I am going to give it my all."
Watch his song in full.
Top Eurovisión 2015: Suecia con "Heroes" de Mans Zelmerlow. Top 2/39 (General). Top 1/17 (SF2) https://t.co/7Pe2EjTkbo

— Vicente Rico (@YTanRicamente) May 12, 2015
The full list of performers on Saturday is:
1. Lithuania – Monika Linkyte & Vaidas Baumila -This Time
2. Poland – Monika Kuszynska -In the Name of Love
3. Slovenia – Maraaya -Here For You
4. Sweden – Mans Zelmerlow -Heroes
5.Norway – Morland & Debrah Scarlett – A Monster Like Me
6. Montenegro – Knez -Adio
7. Cyprus – John Karayiannis – One Thing I Should Have Done
8. Azerbaijan – Elnur Huseynov -Hour of the Wolf
9. Latvia – Aminata – Love Injected
10. Israel – Nadav Guedj – Golden Boy
11. Albania – Elhaida Dani -I'm Alive
12. Armenia – Genealogy – Face the Shadow
13. Russia – Polina Gagarina – A Million Voices
14. Romania -Voltaj – All Over Again
15. Hungary – Boggie Stamenoz – Wars for Nothing
16. Greece – Maria-Elena
17. Estonia – Elina Born & Stig Rasta -Goodbye to Yesterday
18. Georgia – Nina Sublatti -Warrior
19. Serbia – Bojana Stamenov – Beauty Never Lies
20. Belgium – Loic Nottet – Rhythm Inside
21. Australia – Guy Sebastian -Tonight Again
22. Austria – The Makesmakes -I Am Yours
23. France – Lisa Angell – Don't Forget
24. Germany – Ann Sophie -Black Smoke
25. Italy – Il Volo – Grande Amore
26. Spain – Edume -Amanacer
27. United Kingdom – Electro Velvet -Still in Love With You
Britain was one of seven pre-qualified countries.
We amore ilvolo</a> <a href="https://twitter.com/hashtag/Eurovision?src=hash">#Eurovision</a> <a href="http://t.co/O1GQsoX6Bs">pic.twitter.com/O1GQsoX6Bs</a></p>&mdash; ElectroVelvet (ElectroVelvet) May 21, 2015
The 20 shortlisted entries from this week's two semi-finals will join contestants from seven pre-qualified countries, including Australia, in the grand finale on Saturday.
The Eurovision Song Contest will be hosted by the first ever trio of presenters who will also be joined by last year's Austrian winner Conchita Wurst.
It is the second time Austria is hosting the contest, this time at the Weiner Stahthalle in Vienna.