UNESCO 'very concerned' about ancient Syrian city of Palmyra
Comments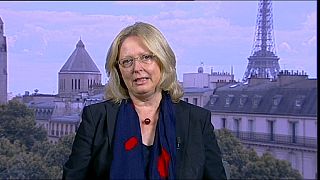 With Palmyra now in the hands of ISIL militants, UNESCO says it has serious concerns about the safety of monuments in the ancient Syrian city.
Euronews spoke to Mechtild Rossler, Deputy Director of UNESCO's World Heritage Centre.
Olivier Peguy, euronews: "What do you make of the takeover of Palmyra by ISIL militants?"
Mechtild Rossler: "We are very concerned and upset about the situation, because Palmyra is one of the most important World Heritage sites. Also, it's also one of the first sites that we included on our list in 1980.
"It is a really important site, with Greek-Roman influences. Palmyra is also called the 'Venice of the desert.'"
euronews: "If the site is destroyed, what can UNESCO do? Can you restore or reconstruct?"
Mechtild Rossler: "Certain conditions need to be fulfilled for that. In the case of the former Yugoslavia, we reconstructed the Mostar bridge.
"We did the same in Afghanistan, not a reconstruction, but we saved areas housing Buddha statues, which included paintings.
"Also, right now, we are in a phase of reconstruction work in Mali. So we know these situations well. But we need a calmer situation to be able to work on the ground.
"Right now UNESCO can only intervene with all the partners against illegal trading of artefacts. And here is where I have a request. We have to find a way to stop this illegal activity.
"The most important thing is to ensure the objects do not leave the country and that they are not sold on the international market."
euronews: "Are there other cultural sites in the region that could, in the future, become targets? Are you already looking at any measures?"
Mechtild Rossler: "We are analysing the situation with our officers in the region, not only in Syria but also in Iraq. We're also looking closely at the situation in Libya and Yemen. We're in contact with the authorities and NGOs.
"Some NGOs can still work on the ground, so we'll be collecting information.
"But the situation is very severe and I call on the international community to help, with financing if possible, because we're working with very small teams."