ISIL razing of Palmyra's cultural heritage "not foregone conclusion"
Comments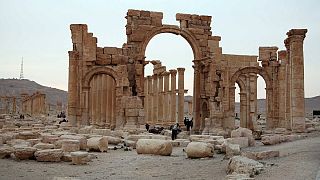 Western outrage over fears ISIL will raze Palmyra's cultural patrimony has handed the radicalists valuable propaganda, an expert has claimed.
But Charlie Winter, a researcher on jihadist movements at the Quilliam Foundation, says the destruction of the Syrian city's heritage is not a "foregone conclusion".
ISIL fighters took complete control of the world heritage site on Wednesday (May 20), according to the Syrian Observatory for Human Rights.
"I think this offensive has been long in the making, like Ramadi," said Mr Winter. "ISIL is very keen on ensuring there is a perception of momentum around it.
"We're in the run up to Ramadan and I expect it's a bit of a propaganda surge for them, to cause a peak of interest.
"We cannot know for sure, but it's important to know that it's not a foregone conclusion that ISIL will destroy Palmyra.
"ISIL knows it's got to win hearts and minds and keep the local population onside."
Nevertheless, UNESCO told Euronews on Thursday (May 22) it was very concerned about Palmyra.
ISIL's destruction of ancient artefacts in Mosul, Iraq, was branded as 'cultural cleansing' by UNESCO in March.
Mr Winter added: "But ISIL will want to capitalise on the propaganda value, because of the outcry [over destroying Palmyra's heritage] in the West.
"It depends whether they [senior figures within ISIL] think it's worth the risk.
"It's about keeping the momentum up. It looks like it's been losing ground lately and that God wasn't on its side and that it wasn't unstoppable."​