ISIL controls more than half of Syria after seizing Palmyra
Comments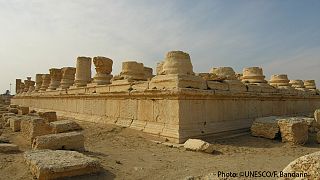 More than 100 pro-Syrian government fighters have been reported killed as ISIL captured all of the historic city of Palmyra, according to the British-based Syrian observatory for Human rights.
The Islamic extremist group has control of the military airbase, prison and intelligence headquarters, and it has also entered the city's historic sites, though there are no reports of destruction so far.
The taking of Palmyra means that more than half of Syrian territory is now under ISIL control.
The group already controlled wide tracts of the north and east, though these areas were mostly desert. This is the first time they have seized a large population centre directly from Syrian pro-government forces.
One resident said they had inside help:
"There are people from the city joining IS. They led the IS militants into the city and helped them. Without their help, the militants would not know where to go, and which streets, which houses are the key places."
Syria's interior minister, Mohamad al-Shaar, says the government is doing all it can to protect Palmyra's ancient ruins which have been designated a UNESCO world heritage site.
"We will make all possible efforts to maintain this large stock (of antiquities) because, as we said, this is the inheritance for the nation and for humanity."
The country's antiquities chief announced that hundreds of statues have been moved from the ancient city to locations safe from ISIL militants who have been known to destroy historical monuments they say are against Islam.