ISIL militants reportedly seize Syrian city of Palmyra
Comments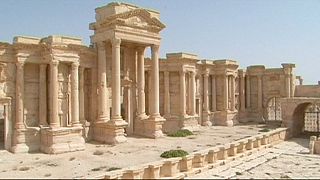 ISIL militants have seized almost all of the ancient Syrian city of Palmyra, according to the Britain-based Syrian Observatory for Human Rights.
It follows fierce fighting with government forces.
The apparent capture is the first time the self-proclaimed Islamic State has taken control of a city directly from the Syrian army and allied forces.
Residents had been evacuated, Syrian state television reported, after large groups of ISIL militants entered Palmyra from the north.
"It is an international battle. If ISIL succeeds, it will not only be a victory over Syria's people, but also one against America, China, France, Britain and Russia – and all permanent members in the Security Council," said Maamoun Abdullkarim, Syrian Antiquities and Museums chief.
Palymra is home to two-thousand-year-old monuments, which were put on UNESCO's World Heritage in danger list two years ago. The fear is that ISIL militants will move in and demolish them.
Fighters have already destroyed antiquities and ancient monuments in Iraq.