North Korea cancels Ban Ki-moon visit
Comments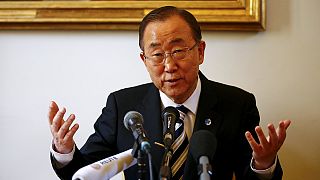 The United Nations Secretary General Ban Ki-moon says a rare visit to North Korea has been cancelled because Pyongyang has retracted its approval.
Ban had been due to visit the Kaesong industrial park, on the northern side of the heavily fortified border, on Thursday.
The special economic zone is run jointly by North Korea and South Korea and is their point of cooperation.
It was borne from their first summit meeting 15 years ago and is a particularly important source of revenue for North Korea.
Ban Ki-Moon has called the decision to cancel "deeply regrettable" a sentiment shared by the South Korean Unification Ministry Spokesman Lim Byeong-Cheol:
"Once again, we urge the North to step towards ending its international isolation. The North should work together and communicate with the international community including the United Nations, and move forward for better South-North Korean relations and peace on the Korean peninsula
Ban Ki-moon is South Korean and served as foreign minister between 2004-2006, a period of tense negotiations aimed at ending the North's nuclear programme.
This would have been the first visit by a serving UN chief since Boutros Boutros-Ghali in 1993.
No explanation was given for the last minute cancellation.
North Korean state media never announced the planned visit or the withdrawl of its invitation.