Eurovision Song Contest kicks off in Vienna with first semi-final
Comments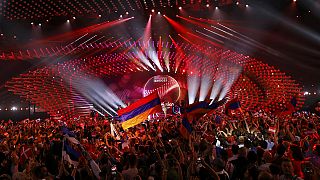 The Eurovision Song Contest has officially kicked-off in Vienna with the first semi-final. Sixteen acts pulled out all the stops to avoid elimination to make it to Saturday nights final.
One of this years competition favourites sailed through, Russia and Polina Gagarina with a Million Voices.
Eurovision is in it's 60th year and this time its theme is Building Bridges …. not sure how far that will be reflected in a contest infamous for its political voting.
Romania got through with Voltaj and All Over Again. Its a topical song about the effects of migration on children.
The six that didn't make it though were The Netherlands with a normally strong record in the contest – , Denmark, Moldova, Belarus the Former Yugoslavian Republic of Macedonian and sadly Finland who were sporting the first ever group whose members were either autistic or Downs Syndrome.
The second semi-final is on Thursday. The big five – the UK Spain Germany, Italy and France don't have to worry about their entries as they automatically qualify each year because they all contribute the most cash…. well its one way to avoid the humiliation of not qualifying. "Nil point " is indelibly etched on some contestants' hearts.