[Watch] Portuguese police beat football fan in front of his child
Comments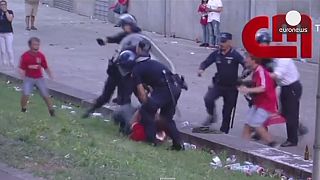 This is the footage that is causing a stir in Portugal: police beating a football supporter in front of his family.
It purports to show businessman José Magalhaes, 43, being attacked after Benfica's match on Sunday, where the club secured its 34th league title.
A probe is now underway over whether police used excessive force.
The footage shows how the attack was carried out in front of Magalhaes' children, aged 13 and nine.
After the violence, police charged Magalhaes for insulting public officials, something he has repeatedly denied.
"I just told the officer the police were not doing their job because they were not letting us leave the stadium," Magalhaes said, according to Portuguese media reports. "I was worried for the safety of my children."
Police have opened disciplinary proceedings against the officer, while Portugal's Interior Ministry has launched a probe into the incident.