Merkel and Hollande pledge action on climate change
Comments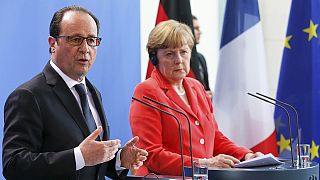 The leaders of France and Germany have said more needs to be done if the world is to achieve its goal of limiting global warming to two degrees.
The pair held a meeting with environment ministers from 35 nations in Berlin for the so called "Petersberger Climate Dialogue."
Here they set ambitious goals for a UN climate conference in Paris at the end of the year.
The German Chancellor Angela Merkel said: "We will announce at the conference in Paris that the global long-term goal is a reduction of at least 60 percent greenhouse gases compared to 2010. That would mean a global reduction of 50 percent compared to 1990. Yes, it is very ambitious. But we believe if we join forces we will be able to manage that."
Merkel also says industrialised nations should contribute more funds to developing countries to encourage them to back the plans and help them deal with the side effects of climate change.
Meanwhile France's President Francois Hollande said it is crucial to make drastic changes immediately.
"Let's mobilise, let's act," he said. It's urgent, it is within our common interest. Because, as the Chancellor pointed out, global warming is not only a threat, it is a crucial opportunity to invent another model of development".
Despite the far ranging promises many still don't feel that leaders are doing enough.
Germany is Europe's largest economy but also its emitter of CO2.