'Dheepan' by Jacques Audiard wins Palme d'Or at Cannes Film Festival
Comments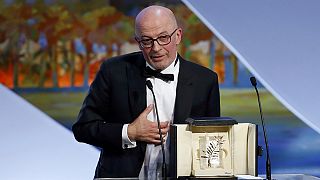 "Dheepan" by director Jacques Audiard has won the prestigious Palme d'Or award at the 2015 Cannes Film Festival.
The film tells the tale of Tamil refugees from the civil war in Sri Lanka as they try to build a new life on a violent housing estate in France.
The surprise announcement was made at the end of the final awards ceremony following the decision by the jury which was headed by filmmakers Joel and Ethan Coen.
"I'm very moved. Winning a prize from the Coen brothers is something that is exceptional," Audiard, who has won two smaller Cannes awards in the past, told the closing ceremony. "I'm thinking of my father."
Jacques Audiard's DHEEPAN wins #Cannes Palme d'Or. The Variety</a> review: <a href="http://t.co/t6JuoPwzT7">http://t.co/t6JuoPwzT7</a></p>&mdash; Variety (Variety) May 24, 2015
Audiard's film "Rust and Bone" had been a challenger for the Palme d'Or in 2012.
László Nemes had been tipped as a Palme d'Or winner this year. In the end the first-time filmmaker from Hungary took the second prize, the Grand Prix, for his wrenching Holocaust drama 'Son of Saul'.
The young director said he had tried to avoid the sentimentalism of other Holocaust films.
"Carol" had already won the Queer Palm award relating to gay issues. Now Rooney Mara was jointly named Best Actress in the film about two women who fall in love in 1950s New York.
She shares the award with Emmanuelle Bercot, who won for her role in 'Mon Roi' by French director Maiwenn.
Frenchman Vincent Lindon was named Best Actor for "La Loi du Marché" ("The Measure of a Man"), about an unemployed middle-aged man who starts a new job as a security guard.
Cannes Film Festival Winners: The Complete List http://t.co/eHyXcnMBWj

— Cannes Film Festival (@cannes) May 24, 2015
Here is the full list of awards:
Palme d'Or (Short Film): "Waves '98," Directed by Ely Dagher
Camera d'Or (Best First Feature): "La Tierra y la Sombre," Directed by Cesar Acevedo
Best Screenplay: "Chronic," Written by Michel Franco
Best Actress: Rooney Mara for "Carol" and Emmanuelle Bercot for "Mon Roi" (Shared Prize)
Jury Prize: "The Lobster," Directed by Lorgos Lanthimos
Best Actor: Vincent Lindon for "La loi du Marché" ("The Measure of a Man")
Best Director: Hou Hsiao-Hsien for "Nie Yinniang" ("The Assassin")
Grand Prix: "Son of Saul," Directed by Laszlo Nemes
Palme d'Or: "Dheepan," Directed by Jacques Audiard
You can see a recap of the night's events here: