Iraq: video released showing soldiers being rescued from ISIL-held Ramadi
Comments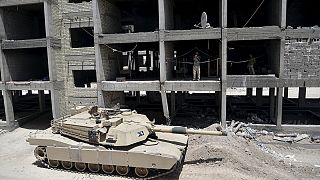 Iraq's ministry of defence has released video showing troops being airlifted from Ramadi, which was taken over by ISIL militants at the weekend.
The soldiers had been stranded in the al-Mulab district.
Iraqi security forces are now deploying tanks and artillery around the city, which lies in the Sunni Muslim province of Anbar.
It comes as Shi'ite militiamen – allied to the army – prepare to launch a counter-attack, described as the "Battle of Anbar."
The fighting in Ramadi has taken its toll on residents. Approximately 40-thousand have reportedly fled.
Local officials say around 500 people have been killed in recent days.
"They (Islamic State) took our houses, left us homeless and took our cattle. They left nothing for us. We have been walking for three days and I am sick and tired. We reached Mussayab, but we're not allowed in," said one displaced resident.
The Baghdad government is facing criticism in the wake of the Ramadi takeover.
The political advisor to the Governor of Anbar has described the retreat of Iraqi troops in the face of ISIL militants as "unjustifiable."