Shi'ite militiamen readying for Ramadi recapture
Comments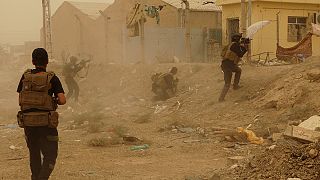 The battle for Ramadi looms as thousands of Shi'ia militiamen reportedly massed to the East of the Iraq city.
The fall of the capital of Anbar province to ISIL on Sunday was a devastating blow for the Iraqi government and has led many to question the military strategy of the US-led coalition.
There had been fears that the use of the Iran backed militias in the mostly Sunni Muslim city might lead to sectarian violence but Washington and Baghdad seem to have run out of options.
Ramadi residents have reported Islamic militants going door-to-door looking for government sympathisers and throwing bodies in the nearby Euphrates river
The United nations has warned of a humanitarian crisis as thousands of people have flee the city.
Further to the East is the city Karma, it was partly recaptured by government forces a month ago.
Militants turned villages in to strongholds digging deep trenches to fight from and lined the roads with hundreds of bombs to halt the advances.
For those sent in to recapture these cities the task is formidable.