Heavy loss of life in Colombian landslide
Comments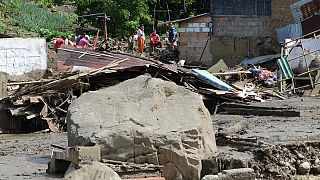 A raging torrent has ripped down a ravine in Colombia's northwestern mountains and swept the town of Salgar away in a mixture of floodwater and dislodged mud and rock.
The deadly landslide has claimed at least 61 lives and the authorities fear the number will rise.
"You never imagine that something like this is going to happen and even less to see so many people you know, so many neighbours killed,but thanks to God I am fine along with my daughters and my granddaughter," said one survivor.
Rescue teams are struggling to find any survivors but access is difficult and equipment is slow to arrive to the disaster zone.
Many people are working through the rubble with their bare hands in the race against time. President Juan Manuel Santos has flown over the area and has declared a public emergency.