German train drivers begin open-ended strike
Comments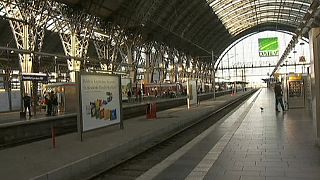 German train drivers have announced their ninth strike in 10 months due to an ongoing dispute with rail operator Deutsche Bahn.
Freight trains shut down at 3pm on Tuesday (May 19) with passenger trains stopping from 2pm Wednesday.
The GDL union, representing 20,000 drivers, has not given a date for when the strike will end but says it will give 48 hours notice.
In Germany 5.5 million people travel by train every day and 620,000 tonnes of freight is moved.
The economic cost to Germany could be as much as 100 million euros for each day the strike lasts.
The union want to secure a 5 percent pay rise for its members and a shorter working week. It also wants the right to represent other rail workers such as train stewards.
Deutsche Bahn, with 200,000 employees, has offered a 4.7 percent pay rise plus a one-off payment of 1,000 euros but refuses to negotiate for other workers.